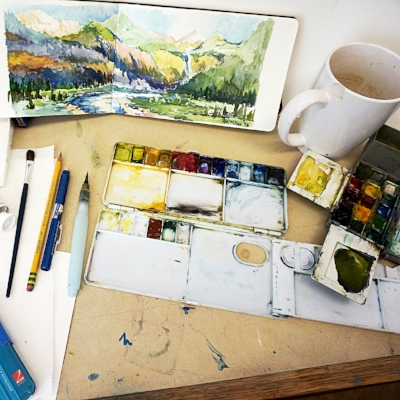 Jerry's Artarama Watercolor Shopping Cart
I love to watercolor! Especially on the road. This small kit walked along the Embankment in London and pilgramaged to Santiago de Campostela, wandered though muddy fields in the Netherlands and was sheltered from the rain in cloudy Monteverde. When travel sketching, I start with a pencil sketch, inked it in with Micron Pens, and then watercolor wash over the drawing. I finish by erasing the pencil lines, once the watercolor is dry. Here is a list of the supplies shown in the photos above.
folding plastic palette with my favorite pigments squeezed out and dried, or Windsor Newton folding watercolor kit.
Pigments I love: Ultramarine Blue, Cerulean Blue, Alizarin Crimson, Cadmium Red, Cadmium yellow deep, Cadmium Yellow Light, White gouache.
a few brushes, especially my favorite travel brush
Micron Pens in sizes, 01 06 and 1
2H or No. 2 pencil
small plastic spice jar for water. I usually carry the water in a water bottle.
Zip lock bag for storing the sketchbook in--I have wrecked a sketchbook with a burst water bottle.